Secret Sound!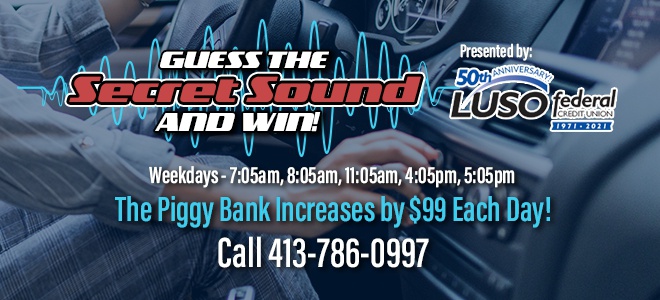 It's a common everyday sound, but can you guess what it is? Introducing The Q 99.7's Secret Sound Contest!
Starting Thursday May 13th, listen weekday mornings at 7:05, 8:05, and 11:05 and then weekday afternoons at 4:05 and 5:05 for your chance to call in with the answer!
Be our 7th caller at 413-786-0997 and you'll get to guess what's making the sound. If you get it right, you'll win $99! If no one gets the answer right during the specified times to call in, then the Secret Sound Piggy Bank increases by $99 each day!!
Presented by:

For general contest rules, click here.
*** Please note: Absolutely no donor money is being used for this contest. It is being paid out by Luso Federal Credit Union.
Hope For Today
5-13-21

"For this is how God loved the world: He gave[g] his one and only Son, so that everyone who believes in him will not perish but have eternal life. God sent his Son into the world not to judge the world, but to save the world through him. John 3:16-17