Secret Sound!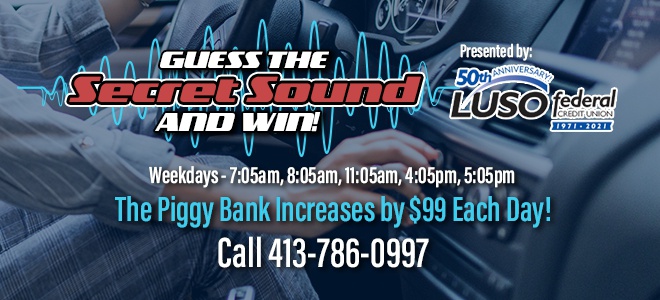 It's a common everyday sound, but can you guess what it is?
Listen weekdays at 7:05am, 8:05am, 11:05am, 4:05pm, & 5:05pm for your chance to call in with the answer!
Call 413-786-0997 and you'll get to guess what's making the sound. If you get it right, you'll win $99! If no one gets the answer right during the specified times to call in, then the Secret Sound Piggy Bank increases by $99 each weekday!!
Presented by:

Recent Secret Sound Guesses:
Balloon being blown up

Rollerskates

Shoveling Snow

Tie to Open Box

Opening Package

Unwrapping presents

Fireworks

Opening Bag of

Potato

Chips

Lighting A Match

Taping A Box

Zipper

Inflatable Opening

Opening Cereal Box

Opening Amazon Box

Opening a Tent

Ripping a Cardboard Box

Dragging a heavy bag across pavement

Motorcycle Starting & Taking Off

Pulling/putting a bed sheet on a bed

Pulling Saran Wrap

Sitting on a Bean Bag

Scotch Tape

Opening an Envelope

Peeling Corn On The Cob

Slime

Packing Tape Sealing a Package

A Car

Opening a bag of mulch & scooping it

Blowing into a microphone

Blowing up a helium balloon

Skydiving

Skateboard

Drawer Opening

Open Soda & Pouring

Skiing

Car vacuum/ Vacuuming a car

Opening Sliding Door

Taking a lapel mic on or off someone

Tearing Aluminum Foil

Unzipping/Opening Bag of Money

Tearing a Piece of Paper

Slurping a Drink

Scratching Foam

Cutting Floral Foam

Pulling Dental Floss Across Teeth

Rubbing a Microphone On Something

Opening a Can of Coffee

Opening a Bag of Cereal

Drawing a line with a pen or piece of chalk

Dragging Trash Barrell

Sipping a Drink From a Straw

Taking Newspaper out of the Bag

Opening a Parachute

Dispensing Shaving Cream From the Can

Ice Dispenser

Rollerblades

Sledding

Peeling an Orange

Sitting on a Sofa

Ice Skates

Pulling a Post It Note off Pad

Pouring Coffee

Spraying Hair Mousse

A Flare

Lighting Gas Range with a Match

Opening a Box of Strawberries

Biting Into an Apple

Spraying Whipped Cream

Pouring Cereal

Biting Into a Watermelon

Popcorn Popping on a Stovetop

Keurig

Scooping Coffee Beans

Buttering Toast

Someone Eating Potato Chips

Unpacking Spaghetti & Putting Into Boiling Water

Shucking Corn on the Cob
CLUES: It is NOT taping, tearing, scratching, opening, or cutting something.
The Secret Sound is Edible!
For general contest rules, click here.
*** Please note: Absolutely no donor money is being used for this contest. It is being paid out by Luso Federal Credit Union.
Hope For Today
10-20-2021

You light a lamp for me. The Lord, my God, lights up my darkness. Psalm 18:28